The 8 Dimensions of Leadership Book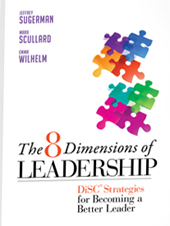 US $22.95
Don't be a One-Dimensional Leader! To be an effective leader you need to know your strengths—but that's only part of the story. You also need a broad perspective on all the behaviors needed to be an effective leader. This book provides both including an online assessment with your own personalize access code.
"Everything DiSC" and "Everything DiSC 363 for Leaders" are registered trademarks of John Wiley & Sons, Inc. or its affiliated companies.
Any questions?
Please use the following form to request information or place an order.  We will contact you regarding payment.  Thank you!