Everything DiSC® Management Facilitation Kit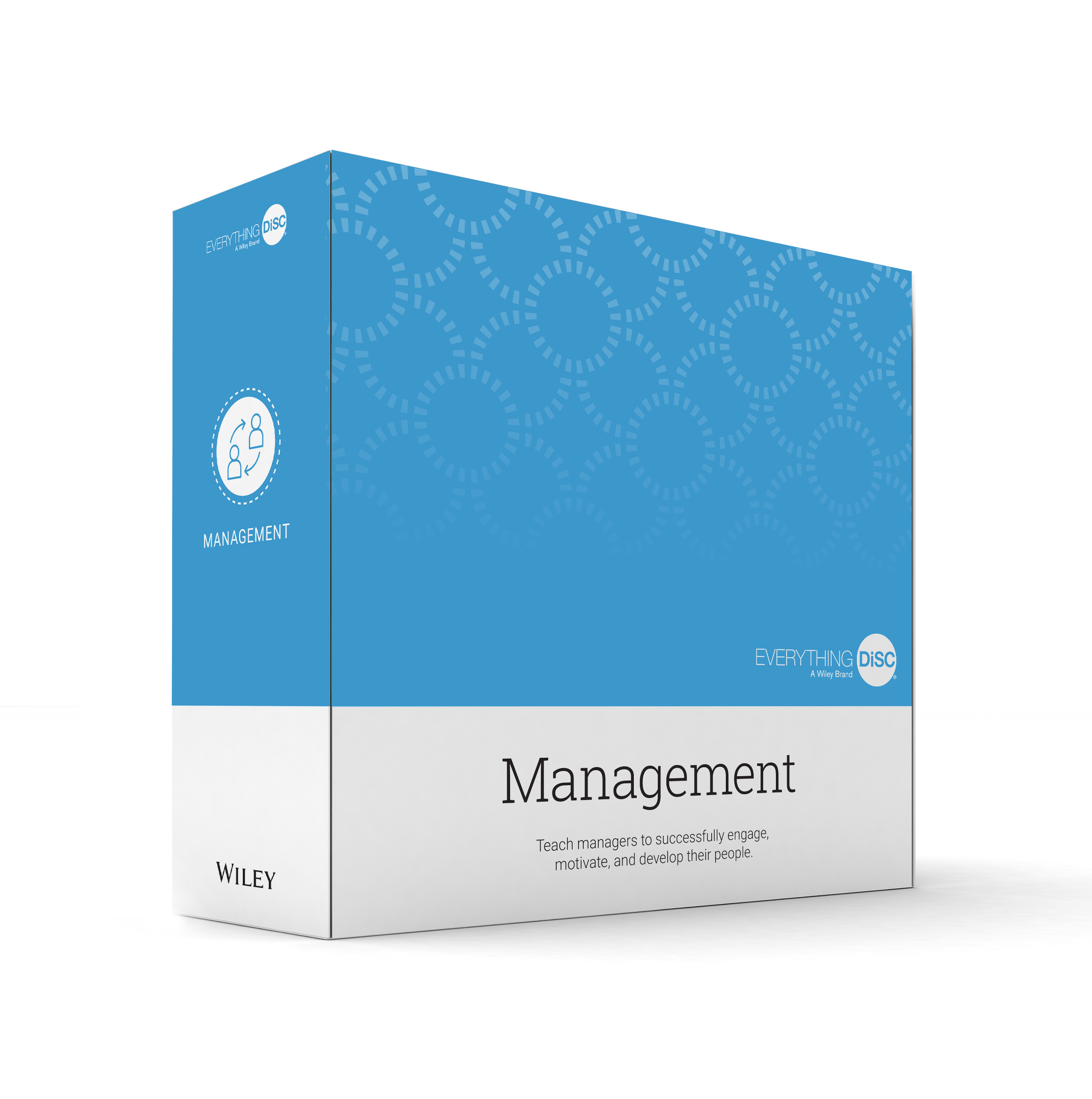 US $1,495.00
Introducing Everything DiSC® Management - the most in-depth, easily customizable DiSC®-based management-training solution available.
Everything DiSC® Management increases effectiveness using personalized learning to help managers
Develop their management styles
Improve communication
Increase employee engagement
The Everything DiSC® Management Facilitation Materials provide you with everything you need to deliver memorable training experiences to your clients.
Facilitation materials include easily customizable:
Leader's script
PowerPoint® with embedded video
Participant handouts
Everything DiSC® Management Facilitation Materials are designed to be used with the Everything DiSC® Management Profile.
Facilitation Materials: Modular Design
In-depth
Six one-hour modules, fully scripted facilitation with engaging experiential and processing activities. Facilitator notes give tips to maximize learning.
Easily customizable
Create a customized solution for every session. Fits any timeframe: from one-hour to full-day.
Managers learn:
Their DiSC® Management Style: How DiSC affects management style, examining their priories as managers.
Directing and Delegating: Their strengths and challenges when directing and delegating.
Motivation: How DiSC® styles influence how people are motivated.
Developing Others: Their natural styles of developing others.
Working with Your Manager: To influence and communicate effectively with their managers by meeting their DiSC® needs and preferences.
Facilitation Materials Include:
Leader's Guides in MS Word
PowerPoint with embedded video
Stand-alone, menu-driven video
Participant handouts in MS Word
Templates and images
Sample Everything DiSC® Management Profile
Resource and research sections
Everything DiSC® Management Interaction Guides (for 24 participants)
24/7 Online Support: Get help customizing your program anytime with new online tutorials. Stay up-to-date with product updates and the latest best practices.
Total Portability: Facilitation, video, PowerPoint®, and participant handouts delivered on a USB drive with ample space to save custom programs in one spot.
ENGAGING VIDEO
In-depth
Contemporary video with 30 vignettes featuring real-world, management-specific interactions.
Easily Customizable Works three ways: stand-alone clips, integrated with the facilitation PowerPoint, or integrated into your custom PowerPoint presentation.
Video sections include
Management Styles
People Reading
Directing and Delegating
Creating Motivating Environments
Working with your Manager
Easily Customizable
Pick and choose clips that fit your needs. Use the video three ways:
Stand-alone clips
Integrated with the facilitation PowerPoint
Integrated into your custom PowerPoint
"Everything DiSC" is a registered trademark of John Wiley & Sons, Inc. or its affiliated companies.
Any questions?
Please use the following form to request information or place an order.  We will contact you regarding payment.  Thank you!